Four-borough incinerator approved for London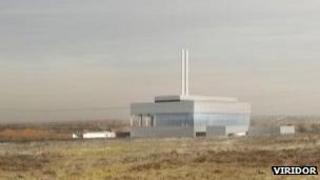 An incinerator that will burn waste from four London boroughs has been approved for south-west London.
The Mayor of London's office gave the green light for the Energy Recovery Facility (ERF) in Sutton.
The incinerator would burn waste from the boroughs of Croydon, Kingston upon Thames, Merton and Sutton, diverting about 95% of waste away from landfill.
But Green Party member for the London Assembly, Jenny Jones, described it as an "environmental disaster".
'Community benefits'
The decision over the incinerator, which will be built on Beddington Lane in Sutton, was delegated by the mayor to his deputy mayor for planning, Edward Lister, and must be approved by the government before building work can begin.
It is expected that the plant will process about 275,000 tonnes of non-hazardous waste each year and generate up to 26MW of electricity, which will power the facility and supply more than 22MW to the National Grid.
Ian John, Head of Planning at Viridor, said: "The facility will deliver real environmental, economic, social and community benefits."
But Ms Jones said: "The Mayor has failed to observe his own planning and waste policies which state that incineration is the least desirable form of waste management.
"Instead he has put the interests of big business first, before legitimate environmental concerns and the interests of local residents that will be affected by his decision."