Would-be nurses to get care experience on wards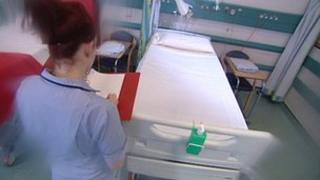 Prospective student nurses in East Midlands will work for a year before their studies as part of a trial set up after the Mid Staffs Hospital inquiry.
Health Education England (HEE) hopes the scheme will allow people to find out if nursing is right for them.
It is being trialled at Kettering General, Northampton General, Chesterfield Royal and Derby hospitals.
Dr Lisa Bayliss-Pratt, from HEE, said it is a "chance to test" if people have the proper attitudes to nurse patients.
Dr Bayliss-Pratt, director of nursing, said: "It is important for aspirant nurses to get a feel of what is required of nursing and to provide compassionate care for individuals who may be at their most vulnerable."
'Very realistic view'
Would-be nurses will work for up to a year as paid healthcare assistants before they apply to do degrees.
They will work alongside experienced nurses to learn practical skills including washing and dressing patients and helping them to eat and drink.
It is hoped the programme, called the pre-nursing experience pilot, will also help to cut the number of students who drop out of nursing degrees in the first year.
Jacqueline Davis, from Kettering General Hospital who has been on the project's regional steering group, said: "The pilot enables... individuals to get experience and it gives them a very realistic view of what nursing in the NHS is all about."
Trials will eventually be set up in six areas across England, with up to 26 healthcare assistants to work on the frontline in the East Midlands from September.
Health Education England, which was launched in June last year, has set up the scheme after being asked by the government, in response to the Francis Inquiry into the failings at the Mid Staffordshire Hospital trust.
The inquiry wanted more focus on practical training for nurses to help them give compassionate care.