Air passengers to the Isles of Scilly drop by 25%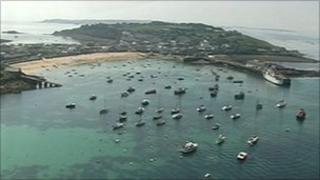 The Isles of Scilly Council figures show air passengers to the archipelago in June were down 25% compared with the same time last year.
Islanders have blamed the decline in numbers on the recession and the loss of the British International Helicopters (BIH) service last October.
Campaigners want a long term transport solution implemented.
Friends of Isles of Scilly Transports, Marian Bennett, said the islands need an "all-year-round ferry service".
Figures obtained from the Council of the Isles of Scilly show a 25% drop from 12,182 passengers in June 2012 to 9,136 in June 2013.
April and May 2013 also showed a drop in passenger numbers on this time last year, however July showed a 16% increase, with 12,961 travelling to the Islands.
Ms Bennett said: "If we want to continue to attract visitors it needs to be affordable, in line with what the Scottish Islanders and their visitors are charged, which is considerably less than our fares."
'Air of optimism'
St Mary's Star Castle hotelier James Francis said a recent survey from a tourist exhibition found that almost 68% of people had thought that travelling to Scilly was only possible by boat.
The fragility of the other transport system was highlighted last winter, when Land's End airport was closed to flights for three months after it became waterlogged.
However, sole operator The Isles of Scilly Steamship Company said a new hard runway, an increase in the number of flights and a new aircraft "more than compensates" for the loss of the helicopter.
Elsewhere in the South West the recent warm weather appears to be improving confidence.
According to the South West Research Company, 69% of all accommodation providers in Devon reported June bookings "as good, if not better than this time last year".
Carolyn Custerson, chairman of VisitDevon said: "There's no doubt the weather has helped what could be a record summer. There's an air of optimism that we have not seen for six or seven years."