Churchill's wartime speeches 'did not always inspire'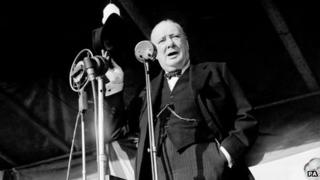 A university academic has questioned the accepted view that Winston Churchill's WWII speeches inspired the nation at a time of crisis.
Professor Richard Toye used government documents, surveys and diaries to look at how the public received Churchill's speeches at home and around the world.
He said the earlier speeches were "by no means universally acclaimed".
He also said many people thought the Prime Minister was drunk during his famous "finest hour" broadcast.
'Treasured myth'
Prof Toye, from the University of Exeter's Department of History, said Churchill's speeches did stimulate and excite people but also caused disappointment and considerable criticism.
"There is little evidence that they made a decisive difference to the British people's will to fight on," he added.
He said the complexity of the public reaction had been obscured from historical record by the power of a treasured national myth.
He examined diaries collected by the social research organisation Mass Observation, which asked people to record their views and opinions and those of people around them, and he also looked at the Ministry of Information's "home intelligence" reports.
One 24-year-old who listened to Churchill's speech on the fall of Singapore in February 1942 was reported to have sworn several times, described it as a cover-up, and said: "Any normal person could see it's just pulling the wool over their eyes."
Prof Toye said people may have liked parts of speeches but not others, and sometimes changed their minds based on newspaper reports or conversations.
"There was not a blanket acceptance and positive reaction," he said.
'Appeal to America'
Churchill wrote his own speeches and did much of his work at his Kent home, Chartwell, now owned by the National Trust.
But in a new book, Prof Toye has shown he adjusted speeches according to government advice.
And the speech "we shall fight on the beaches" included language needed to maximise American sympathies for the war because there was concern the US would not enter the conflict, he said.
The speech was influenced by William Philip Simms, the pro-British foreign editor of the Scripps-Howard chain of American newspapers.
Prof Toye found "striking" similarities between one passage suggested by Simms and Churchill's speech, but said Simms knew Churchill would use his own phraseology.
He also said: "The 'fight them on the beaches' speech was delivered in the House of Commons.
"It was never broadcast, though it was reported on the BBC by an announcer and quoted in the press.
"However, people claim to remember having heard this famous speech from June 1940, even though they hadn't.
"It was recorded for posterity along with others of his wartime speeches nine years later."