MEP Nikki Sinclaire gig: Can politics and comedy mix?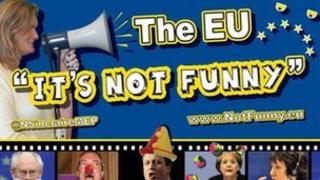 The Edinburgh Festival Fringe has launched many careers in comedy but is perhaps less well known for hosting politicians.
On Wednesday West Midlands MEP Nikki Sinclaire takes to the stage for the first time to join the small group of politicians who have tried stand-up comedy.
Debuting with a free one-hour show, Ms Sinclaire said: "I thought it was a fantastic idea until this morning and now I'm thinking 'What have I done?'"
Every year the festival welcomes political figures in its Spoken Word section but only two other politicians are thought to have performed stand-up at the festival before.
So can mixing politics and comedy work?
Former Liberal Democrat MP-turned comic Lembit Opik said she will have to "roll with the punches" as "people don't like politicians".
Dai Williams, psychologist and expert on MP stress, said: "The clearest careers for very articulate intelligent people with a 'gift of the gab' are as barristers, politicians or comedians, the three are not incompatible."
Ms Sinclaire has a legal degree and Mr Williams said the confidence she has shown as an Independent MP also matches the profile he expects from "very extrovert" comedians.
'Bit risky'
Mr Opik appeared on the comedy stage at Glastonbury in 2010, saying it was "the best and the worst day of my comedy career".
The same year Ealing North Labour MP Stephen Pound performed his first comedy stand-up gig, after appearing on television news comedy Have I Got News For You.
Reviewing his gig for the Independent, Julian Hall gave the show three stars and said his performance was "professional" despite "largely recycled" material.
The same critic gave Mr Opik's "fearless" debut stand-up performance two stars and noted the contributions of Stephen Pound "a known parliamentary wit who heckled other acts genially and ably from the audience".
Mr Pound said: "In politics you've got to be a serious person.
"You can be a serious person who makes the occasional joke but if you start off as a joker who then tries to become serious, it doesn't work."
Mr Opik said: "I was doing stand-up even as an MP but I did try to separate them a little bit... Really it doesn't sit comfortably [with politics] because the media can pull you to pieces and basically undermine you so in that sense it's a bit risky."
Former Liberal Democrat leader Charles Kennedy said: "Wit can help with the wider public but doesn't always play well with your own party."
From a psychological standpoint, Mr Williams said: "There is a hazard of seeming flippant, trivial or condescending.
"People don't like thinking others are manipulative, whether that be on stage as a comedian or acting as a politician."