Danio's officer was asleep on duty as ship ran aground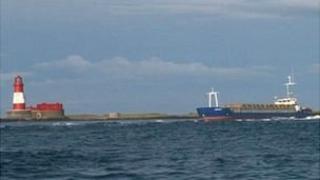 The question everyone in Northumberland was asking was how could a modern cargo ship plough into the Farne Islands right next to an operational lighthouse?
An Inside Out investigation has revealed it was remarkably simple.
The Danio was cruising down the North Sea coast, but the first officer on duty on the bridge had fallen asleep.
An alarm system to prevent just such an event had not been switched on.
Safety system not activated
On the evening of 15 March, 2013 the Danio left Perth laden with Scottish timber.
Once in the North Sea, a heading was entered into the ship's autopilot.
It would maintain that bearing, but with wind and tides a vessel will drift so the course has to be continually monitored and adjusted.
That night, that didn't happen.
Listen to Inside Out's exclusive audio interview with Tadeusz Dudek, the captain of the ship that night.
Our investigation reveals that the captain had finished his shift but, on leaving the bridge, he didn't activate a safety system.
If the person left on the bridge fails to respond to a regular cue then it sets off alarms all over the ship.
It's designed to avert disaster if the duty officer has an accident or falls ill at the helm.
I tracked the ship down in Poland where it underwent repairs after its grounding.
Most of the damage was actually done when the crew tried to get off the islands by throwing the engines into reverse.
The ship's owner Frank Dahl told me the rocks bent the rudders back into the propellers and the resulting vibration shook the engines so violently that they too were badly damaged.
Mr Dahl says annual leave and a family circumstance coincided so that both the captain and first officer were replacements and new to the company.
They have since been fired.
The Marine Accident Investigation Branch has yet to publish its report into the incident.
If maritime law has been broken, British authorities have the power not only to prosecute individuals on board at the time, but the shipping company as well.
You can see my investigation on BBC Inside Out North East and Cumbria at 19:30 BST on Monday, 2 September, on BBC One.