How the British film industry helped win World War II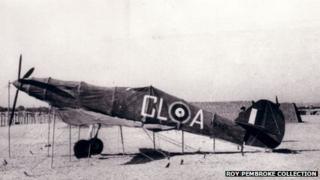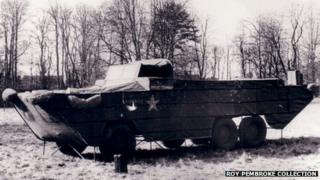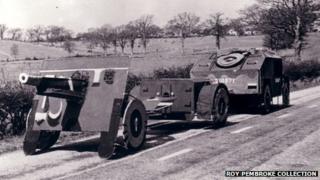 Deception and trickery formed a big part of the World War II effort, but it was film studio tradesmen like carpenters and engineers who took centre stage in the cast of thousands who helped divert German bombers away from British towns and cities.
In 1939 Colonel John Turner, stationed at the Sound City Film studios which became better known as Shepperton, was put in charge of constructing an elaborate network of dummy airfields and hundreds of decoy sites.
The idea was the decoys, which became known as "starfish", were placed near to areas at risk of being bombed by the Luftwaffe.
Whixall Moss, north Shropshire, is one of 237 starfish established at the height of the war, and is being reconstructed as part of a nature trail for visitors to learn about decoys.
'Incendiary flares'
Jim Stabler, from the county council and who has been in charge of recreating the 65 fire boxes using replica baskets, said starfish were "top secret" until about the 1960s.
"The Germans used pathfinders to drop incendiary flares on sites to be targeted by the bomber and those flares were extinguished as soon as possible after they'd been dropped," he said.
"The starfish fires were lit via wires by men stationed nearby to make it appear as if the area was already under attack.
"It was an important strategy to divert the Germans and Whixall was of a chain of three that included Llandegla in Wrexham and Llanasa in Flintshire designed to protect Manchester, Merseyside and Crewe."
He added about 700 bombing missions attacked starfish sites across Great Britain during WWII.
Tom Goodhall, 90, of Carlton in Lowestoft, Suffolk was one of the men trained to activate the starfish fires at Langham, north Norfolk.
"I was 22 at the time and trained in two hours about the controls and how to switch on the decoy lights.
"We were on the flight path and expected to distract the Germans and bring them to our station, but that was in '44 and we never saw any action on our patch, unfortunately."
'Special effects'
Huby Fairhead, from the Norfolk and Suffolk Aviation Museum and has written books on the wartime deception in the area, said lighting engineers were particularly important for the larger scale sites at Bristol and Portsmouth.
"They were meant to look as realistic as possible and local builders enlisted to help were often sent to the film studios on a two-week course, "said Mr Fairhead.
"The engineers taught them special effects - if they were building a decoy near a town where there were foundries, they might use strobe lights to give the effect of welding or to recreate sparks coming off the tracks in areas where trams were used.
"And a pool of water with a standard lamp hanging over it might be used to look like a reflection coming off a nearby river or lake."
Mr Fairhead said each decoy had to be constructed as cheaply as possible and would take at least a month to set up.
Every airfield had at least one decoy and some had two or three, he added.
'Smoke and mirrors'
The Pinewood Studios in Iver Heath, Buckinghamshire, which now runs Shepperton Studios, became a hive of dummy construction.
"A lot of it would literally have been smoke and mirrors," said Gareth Owen, Sir Roger Moore's agent who has written books on the history of both Shepperton and Pinewood.
"Dummy weapons, buildings, barges, tankers, aircraft and even dummy people were all made at Pinewood using canvas and wood which were then camouflaged.
"Sheet metal workers worked round the clock to build sections of the Wellington bomber and I believe many of the flying aircraft they made were given names of film stars working at Pinewood at the time."
So did the German intelligence know what was going on?
Mr Owen said there were suggestions they did because the studio was targeted more than once.
A plaque at Pinewood commemorates an attack in October 1940 which killed two young evacuees from London who were sent to work at the studio.
As well as building the dummy aircraft, the RAF and Army Film and Photographic Units were based at Pinewood during WWII.
It was from a photographic image taken by the German air surveillance teams that Jim Stabler has been able to plan the reconstruction of the starfish site at Whixall.
Mr Stabler said it was unclear how many bombs were dropped on Whixall as the records are "very patchy" but Mr Fairhead said the value of decoys and dummy sites was extremely high.
"At the time it was thought they saved a few thousand lives, but in reality and in hindsight they saved hundreds of thousands," Mr Fairhead said.
"The [enemy] planes attacked the decoys as much as they did the real towns, so if we hadn't had decoys the Germans would have attacked even more areas.
"We could have lost the war without them, especially during the Battle of Britain - decoys were like one of the cogs in a big wheel."