More police forces trial 'street triage' mental health scheme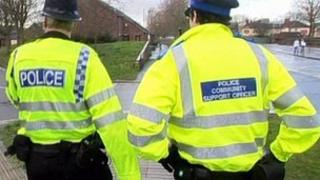 Five more police forces are to pilot a scheme whereby mental health nurses accompany officers on call-outs, the government has announced.
Nurses will join patrols, assist on emergency calls and in control rooms as part of the street triage scheme.
Trials have already been established in Leicestershire and Cleveland.
The new pilots will involve the British Transport Police and the Metropolitan, Thames Valley, West Midlands and West Yorkshire forces.
The extension was announced by care and support minister Norman Lamb.
The scheme, funded by the Department of Health and backed by the Home Office, is aimed at improving the way people with mental health problems are treated during emergencies.
'Times of crisis'
Mr Lamb said: "We know that some police forces are already doing an extremely good job of handling circumstances involving mentally ill people but we want this to be the reality everywhere.
"By providing police forces with the support of health professionals we can give officers the skills they need to treat vulnerable people appropriately in times of crisis.
"We have already seen encouraging results from the other pilot sites."
Derbyshire, Devon & Cornwall, North Yorkshire and Sussex force areas are also in the process of setting up street triage trials.
Minister of state for policing and criminal justice Damian Green said: "These pilots will help ensure people with serious mental health issues are given the appropriate care and support, while ensuring police officers' time is freed up to fight crime.
"They also show the good partnership work going on between health services and the police to ensure people with mental health issues are dealt with by the right emergency service."
'Need compassion'
A joint investigation by Her Majesty's Inspectorates of Constabulary and Prisons, the Care Quality Commission and the Healthcare Inspectorate Wales called for a rethink of how powers were used to detain people in a "place of safety".
Current guidance says police should take people with mental health problems to a hospital or similar location in all but exceptional circumstances, but the investigation found detention in police cells was far from an exceptional occurrence.
Some of those detained were as young as 14.
Marjorie Wallace, chief executive of the mental health charity SANE, said she hoped the 'street triage' scheme would reduce the "shocking numbers" of mentally ill people detained by police.
"They [police officers] often have to take people to a police cell as a place of safety because there are no beds or staff available at a hospital or healthcare facility.
"This is unfair on both the police and mentally ill people, because the majority are doing nothing more than feeling suicidal or in danger of harming themselves. They need compassion and care instead of being strip-searched and locked in a police cell and treated as criminals," she said.