Hadrian's Wall gets electric car charging points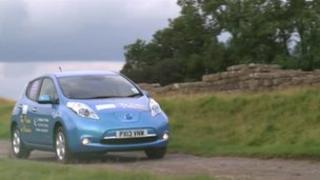 Charging points for electric cars have been installed along the 84-mile route of Hadrian's Wall.
The 30 points are at B&Bs near the 2,000-year-old structure, which runs from Wallsend on Tyneside to Bowness-on-Solway in Cumbria.
Solway Renewable Energy, based in Bowness-on-Solway, installed the PodPoints free, with the help of government funding.
The aim is to attract more visitors to the region.
'Long legacy'
Suzanne Burgess, spokeswoman for the firm, said: "The carbon emissions from electric cars are so much lower than from using petrol and diesel.
"And if we want to leave a legacy as long as Hadrian's Wall has lasted then that's the way we have to consider our transport options."
Electric cars are more expensive to buy than conventional vehicles, but they are cheaper to run, according to Solway Renewable Energy.
Solway's PodPoints recharge a car in six to eight hours.