Brough to Elvington journey for Buccaneer XV168 aircraft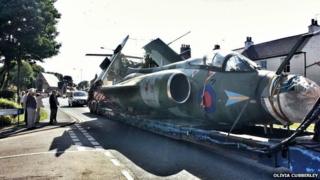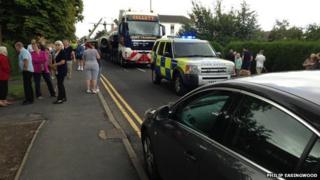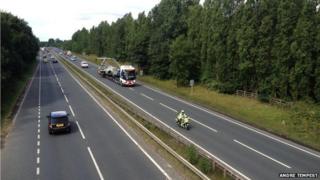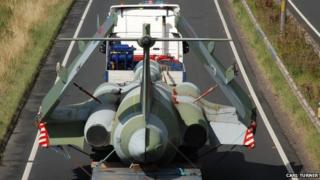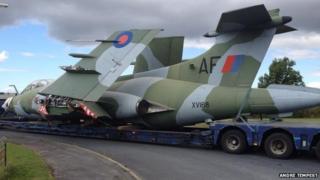 A Cold War aircraft has been driven across Yorkshire to its new home.
BAE Systems donated the Buccaneer XV168 to the Yorkshire Air Museum because it no longer has space for it in Brough, where it was built in the 1960s.
It had been at the East Yorkshire site since 1993, when it was retired from service.
The aircraft joins two other Buccaneers at the museum in Elvington, near York, which said it would be holding a re-dedication ceremony for the XV168.
'Last true Blackburn'
The aircraft was transported on a lorry along the M62 to West Yorkshire before heading north up the A1.
But it suffered a minor setback at the start of its journey through a residential area in Brough when a parked car blocked its path. It was eventually towed away.
Residents had been asked not to park their cars on certain roads on Sunday morning to allow the aircraft to get past.
BAE Systems recently sold its Brough site but said it would be maintaining a presence there.
Aircraft manufacturing began in the village in 1916 when aviation pioneer Robert Blackburn opened a factory for his Blackburn Aeroplane & Motor Company.
A spokesperson for Yorkshire Air Museum said: "The Buccaneer was the last true Blackburn aircraft to be designed and constructed at the historic site... before the company merged with Hawker Siddley and then British Aerospace/BAE Systems.
"It became the company's most successful and longest serving type, with 35 years of service to its credit."