Michael Hammond, Newmarket horse trainer sentenced for welfare offence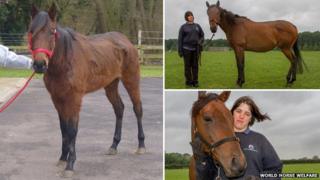 A Newmarket trainer has been sentenced after a horse was found collapsed at a stable in Cambridgeshire.
World Horse Welfare (WHW) found the mare in an emaciated state at Barcham Stables, Soham.
Michael Hammond, 33, of Lester Piggott Way, Newmarket, admitted causing unnecessary suffering to the animal.
Cambridge Magistrates ordered him to pay £1,000 costs to the horse charity and complete 40 hours community service.
The WHW charity said one of its officers visited the stables in January after a call to its Welfare Line by a member of the public.
The officer offered advice, but in February the charity said it had another call from a member of the public to say a horse had collapsed.
'Beggars belief'
The charity returned and said Galaxy, also known as Una Vita Pius, was emaciated, dehydrated and very weak.
The horse was removed and taken for treatment at the charity's Hall Farm Rescue and Rehoming Centre at Snetterton in Norfolk.
Jacko Jackson, the charity's officer, said: "When I was able to reach the site, Galaxy was standing but it was clear she was within days of dying and had given up on her battle for life.
"It beggars belief that a horse in his care could get into such a state, particularly as we had offered help and advice previously."
The owners of stables said Hammond was no longer renting Barcham from them and they had no connection with the horses he kept there.
The charity said the horse had recovered and would be found a new home when its rehabilitation was complete.