Cerebral palsy op success for boy, 9, from Cornwall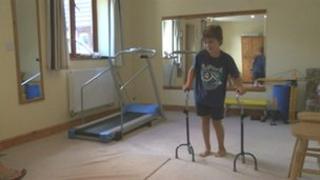 A nine-year-old boy from Cornwall with cerebral palsy can walk and swim two years after a life-changing operation at Frenchay Hospital in Bristol.
In 2011, Beau Britton was the first child in the UK to have the procedure only previously available in the US.
His mother, Tracy Britton, said: "The benefits of this operation are ongoing and will be lifelong."
The micro-neurosurgery involves identifying and cutting the spinal nerves to reduce stiffness and pain.
Leaps and bounds
The procedure is called selective dorsal rhizotomy (SDR) and concentrates on the lower part of the spinal cord.
Since Beau's operation in 2011, about 60 children have had the same operation at Frenchay.
The hospital has received a further 200 referrals over the past two years.
Consultant paediatric neurosurgeon, Richard Edwards, said: "To have this operation available in the UK has been a great bonus for the patients.
"It is onerous to go to the US and when they come back they haven't got that support infrastructure around them.
"This is an operation where the benefits are sustained at five, 10 and 15 years down the line so that we know that if we can make them better at two years, that's going to be maintained into adult life."
Since the operation, Beau has also been able to sleep through the night. Previously the pain in his legs kept him awake at night.
Mrs Britton said: "Beau has come on in leaps and bounds. He's able to do things that we really didn't think would be possible before the operation.
"To get in and out the car, and on and off the loo, in and out the bath, in and out of his bed and up and down the stairs - with a little help - would have been impossible."