East Midlands Trains wins appeal over RMT strike ruling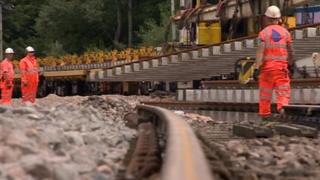 An injunction has been granted to prevent a rail union taking what East Midlands Trains described as "unlawful strike action".
The injunction prevents National Union of Rail, Maritime and Transport Workers (RMT) members taking industrial action outside of an agreed mandate.
A High Court judge had originally rejected the injunction application, but the rail company appealed.
The RMT said certain industrial action would continue "until further notice".
A spokesperson for East Midlands Trains said: "Our passengers and employees will be pleased that the Court of Appeal has granted an injunction to prevent the RMT from taking unlawful strike action.
"The RMT should now put the interests of customers first and comply fully with the court ruling."
Train managers, senior conductors and station staff voted in favour of industrial action, and have been taking the action since 20 July.
The mandate includes not working overtime or rest days, and not performing any additional duties outside their job description and terms and conditions of employment.
'Running to courts'
The dispute is over a number of issues, including how members are treated during engineering works around Nottingham station.
The industrial action has been timed to coincide with work on the station.
Bob Crow, the RMT's general secretary, said: "It's a shame that EMT (East Midlands Trains) management did not put as much effort into resolving this dispute as they did in running to the courts under the cloak of the anti-union laws because the issues at the heart of the dispute still have to be addressed.
"RMT will continue to fight to resolve this matter."
Lady Justice Arden, Lord Justice Jackson and Lord Justice Tomlinson announced they were allowing the appeal and granting the injunction on Thursday.