Blue plaque schemes 'will suffer' over cuts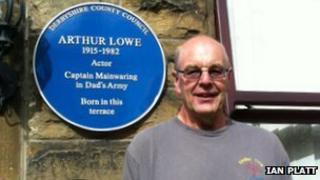 They serve as historical markers to link places with the notable people that lived there. But the Local Government Association has warned that cuts in government spending will impact on the number of blue plaques erected in future.
Number 63 Kinder Road in the Derbyshire village of Hayfield is like any other mid terraced house except for the blue plaque on the wall dedicated to Dad's Army star Arthur Lowe.
In the two years since the plaque went up, resident Ian Platt has had hundreds of visitors, some even singing Who Do You Think You Are Kidding Mr Hitler? in tribute to the Captain Mainwaring actor.
"Sometimes [when] people are walking back from the pubs I'll hear them talking outside and some will say 'you stupid boy Pike' and others sing the song," he said.
"On a typical day I've seen maybe two people take photos and probably about 10 each day in the week and about 30 on Saturdays and Sundays have stopped and looked at it."
Arthur Lowe's blue plaque will be the last one seen in Derbyshire for a while, however.
The local authority, which organised the unveiling ceremony, said "a lot of time and effort" was needed to run the scheme. With the authority facing budget cuts of £157m over the next five years, a spokesman said it was "a luxury [it] simply can't afford".
'Sing song'
The Local Government Association [LGA] said blue plaque schemes would "inevitably suffer" as a result of councils taking decisions on how to manage cuts.
The LGA, which represents more than 370 councils in England and Wales, said councils were "having to focus their resources on delivering vital frontline services".
English Heritage, which has faced a budget cut of 29% over three years, has "temporarily closed [its scheme] to new applications" as it catches up with a backlog.
More than 280 organisations have been running, or have proposed, plaque projects in England.
They are not only councils. Local history societies and other groups, such as the Royal Society of Chemistry and the Railway Heritage Trust, have also been involved.
But one group, the Directors Guild of Great Britain, said it was becoming more difficult to raise the necessary funds.
Ivor Benjamin, who chairs the group, said blue plaques were important for the heritage of the country.
He added: "Blues plaques are like postboxes and telephone boxes - they are a British thing... What better way to celebrate and promote the work of directors than to put up a blue plaque?
"[But] it is getting harder in the current economic climate to raise money and this is affecting all charities, not just us."
English Heritage has said it is hoped that by 2015 alternative funding could be secured or that another organisation could take over the scheme.
The last time installations were suspended was due to war-time economies from 1915 to 1919 and 1940 to 1947.
So schemes like Birmingham Civic Society's initiative, costing about £400 per plaque, remain important.
The civic society has put up more than 70 in the city, but in the current economic climate how many more will be erected remains to be seen.