Brass band to climb and perform at Three Peak summits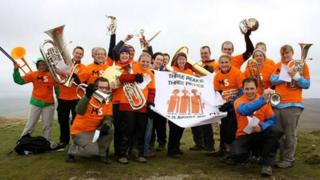 Climbing the highest peaks of England, Scotland and Wales is challenge enough for most people, but carrying the instruments of a full brass band - adding an extra 16 stone and 12lbs to the walking party - makes it that bit tougher.
But the Three Peaks Brass, a newly formed band, will set off at 15:00 BST to do that very thing, playing each country's national song at the top of each summit, and hopefully all within 24 hours.
James Parkinson, 29, a broadcast engineer from London who has organised the event said: "There are 35 musicians from around the UK, some are really good players, others are not very good and some have only just started to learn."
Half the band is made up of East London Brass but there are also players from Black Dyke Colliery and Grimethorpe Colliery of Brassed Off fame, as well as those who only bought instruments at the beginning of the year.
Regardless of their standards everyone will start at Ben Nevis in Scotland where they will play Flower of Scotland at the summit.
They will then travel to the Lake District to climb Scafell Pike and perform Jerusalem, before heading to Snowdon in Wales on Sunday to give a rousing performance of Land of My Fathers.
Mr Parkinson said: "I am a bit worried about people going half way up and saying we can't do this, and a lot of people have turned around and said it's stupid, and not possible physically, but I'm really confident with the people I've got.
"We don't want people rushing and panicking but if the conditions are right we want to go up all three in 24 hours."
The trek, which covers climbs of about 25 miles (40km), is to raise money for the Multiple Sclerosis Society UK - a charity which helps people with an illness Mr Parkinson's mother, Ann, was diagnosed with more than 20 years ago.
But there have also been some health benefits of the challenge.
Dan Knott, 29, a call centre manager and tuba player from Sunderland, has lost nearly a quarter of his body weight during training.
He said: "When I signed up I was a bit sceptical that I wouldn't be fit enough for the challenge but I've been doing circuit training and a fitness class and I've lost nearly five stone [32kg].
"When I set off I wasn't far off 20 stone [127kg] but now I'm just shy of 15 [95kg]."
Mr Knott has done practice walks up each mountain including one with his 12kg (1 stone 12lbs) tuba.
He said: "It was fine, it's in a gig bag, a canvas bag that's got straps so I can carry it, but I've made some modifications for comfort."
Once the band have slogged their way to the top of each mountain there is also the small matter of performing.
Mr Parkinson said: "I knew it would be cool to play at the top, but in reality it will sound a bit rubbish, because it's cold and with colder temperatures the tuning is worse."
One person who might find it even harder to keep his tenor horn in tune is Chris Ratcliffe, 29, a motorbike designer from Wigan who has only just started to learn to play.
He said: "I bought a tenor horn, a rusty old dented thing, for £30 and I've been practising seriously in the past month.
"It's fairly chunky - somewhere between a trumpet and a tuba. I've not tried any walking out and about yet but it's going to be very tricky."
Unsurprisingly it is thought to be the first time this challenge has been attempted.
Nick Johnston from Three Peaks Challenge, a website which supports those attempting to climb the three mountains, said: "The usual challenge is very difficult without the addition of heavy instruments.
"Bank holiday weekends are always popular so I'm sure they'll have a good audience and get lots of support.
"We hope that the weather proves suitable for them, as I imagine holding a good timbre in strong wind and rain would prove difficult."
Three Peaks Brass will set off at 15:00 BST and will tweet their progress at @3peaksbrass.