Halfon hits out at 'ruthless' Tesco over depot closure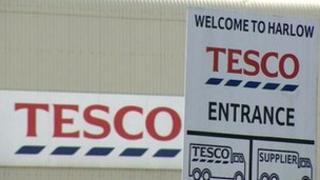 The row over the closure of Tesco's distribution plant in Harlow has been reignited by Labour's Shadow Immigration Minister Chris Bryant.
He claims workers may have lost their jobs only to be replaced by cheaper migrant labour.
It's a claim the company strongly denies following the closure of its Harlow distribution depot which employed 800 people. Workers were offered jobs at a new centre in Dagenham on lower wages and most refused the offer.
Harlow MP Robert Halfon (Con) has called on Tesco to release the figures. He wants to know how many workers were hired from agencies and how many come from Eastern Europe.
"I think that Tesco behaved ruthlessly in Harlow. They've closed a productive distribution centre. They have damaged our community, they have damaged the lives of hundreds of Harlow workers.
"They said to the Harlow workers 'We'll offer you a job in Dagenham in the new plant but you but you have to take lower pay' and to me that was unacceptable.
"So what I am saying to the government is that we should ensure that these kind of companies who behave in this way should get no grants from the centre at all or any help with subsidies or any help with relocation," he says.
Tesco said: "We worked incredibly hard to recruit people from the local area in Dagenham and as a result of that work, the vast majority are British and live locally.
"We have one of the best pay and benefits packages in the industry, and we pay the same rate whether our colleagues are British or from the EU."
Living wage
Mr Halfon believes that the government should look at rules regarding agency workers to ensure that they are not employed on lower wages and he has somewhat surprising views on wage rates.
"I do believe in a living wage but there are arguments about the best way to achieve that and one of the ways to achieve a living wage is to cut taxes for lower earners.
"Tesco use a system called the Swedish derogation which is an EU directive which allows them to employ agency workers, some of whom are from overseas, on the cheap and they are often doing the same jobs as local Harlow residents. To me that is wrong and that is what the government needs to take a look at.
"That's unfair on local Harlow people. I think a balance needs to be struck between decency and how you treat individuals and how much profit a company makes.
"I have met a few of the workers who have found jobs but it's very difficult especially in the current climate.
"Tesco's motto nowadays seems to be 'pile the money high and sell the workers cheap' and to me it's unethical even if it's in the spirit of the law."
The gates may be closed but it's far from the end of the Harlow Tesco workers' story.