Canons Ashby plane crash pilot and boy, 11, 'recovering'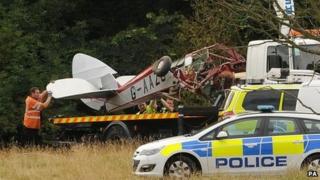 A pilot and an 11-year-old boy injured in a plane crash in Northamptonshire are "making a good recovery", the man's family has said.
The Gipsy Moth light aircraft came down near Canons Ashby house, near Daventry, at 11:45 BST on Monday.
Pilot Giles English, 39, from Moreton Pinkney, Northamptonshire and passenger Olly Nuttall are being treated at hospitals in Coventry and Birmingham.
The Air Accident Investigations Branch has opened an investigation.
Olly had travelled from his home in Hurtmore, Surrey, to stay with the English family during the school holidays.
The pilot's brother-in-law Will Maydon said: "Both are likely to be in hospital for a few days, but considering the gravity of the crash things are looking up.
"Olly is a bit beaten up, but is making a good recovery, as is Giles."
'Engine cut out'
The light aircraft took off from a private airfield in Northamptonshire before suffering what the family believe was "a catastrophic engine failure" shortly afterwards, near the National Trust property.
Mr Maydon said there had been some reports the plane was attempting an aerobatic stunt but this was "absolutely not the case".
"I know there were some reports that the plane was seen climbing," said Maydon
"That is an absolutely standard procedure if you're suffering engine failure, to gain height - to see which spot you're going to chose for an emergency landing."
He added his brother-in-law, who is the joint founder of Bremont Watch Company, in Henley, Oxfordshire, had "tens of thousands of hours as a pilot".
A witness who lives near the scene and declined to be named, said she saw a plane fall from the sky, narrowly missing a lake in the grounds of the manor.
She added: "It was a biplane, and suddenly the engine cut out. It just spiralled out of the sky."