Erika Kacicova: Mother 'feared she was dead'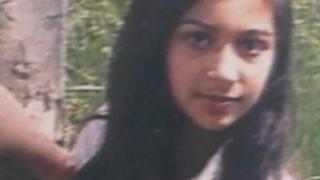 The mother of Sheffield teenager Erika Kacicova, who went missing for a week, has said she was scared her daughter would be found dead.
Erika, 13, was found on her own in Bradford at about 18:40 BST on Monday.
Three men are being held by South Yorkshire Police on suspicion of child abduction. Two other men and a woman have been released after questioning.
The teenager's mother Janna thanked police and said she was "very happy" her daughter would be returning home.
With a family member helping to interpret for her, Mrs Kacicova said she did not know when she would see her daughter, who is in the care of police, but hoped it would be soon.
She said during the time Erika was missing she said had not been able to stop crying and had not been sleeping or eating.
Asked what her biggest fear was, Mrs Kacicova said she was scared her daughter was "dead".
Community 'cheered'
South Yorkshire Police said the teenager was being spoken to by specially trained officers "in order to piece together exactly where she has been and what she has been doing in the time that she has been missing".
The force said she was "well and in good spirits".
A neighbour of the Kacicova family, Arshad Mahmood, said the community was "really down" during Erika's disappearance.
He said: "Now we have heard that she's been found, it's really good news and everybody's cheered up a bit. It's good all round and the family's really happy now.
"It's good to know that she's not hurting and she's well."
The three men in police custody are from Bradford and aged 38, 41 and 43.
A 30-year-old Bradford woman who was arrested on Monday and a 22-year-old man who handed himself in to police on Friday have been bailed while inquiries continue.
An 18-year-old man from Bradford who was arrested on Monday has been released without charge.
Det Insp Helen Tate, who led the investigation, said: "There is a still a long way to go with this investigation.
"It is going to take some time to piece together all the information we are still gathering before we fully understand exactly what happened during the days that she was missing from home."