South West Coast Path: £1.45m of public money spent on repairs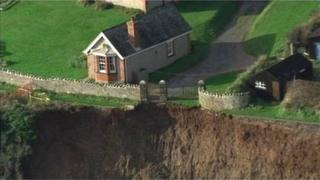 More than £1.45m of public money has been spent or allocated to repair the South West Coast Path after dozens of landslips and cliff falls, local authorities have revealed.
In the winter of 2012-13, there were more than 30 major falls and slips which was "unprecedented", the South West Coast Path Association said.
Cornwall Council said it had allocated £1.25m to repair or create routes.
It said flooding had had a "significant impact" on a "key attraction".
'Very tight budget'
Cornwall Council said its £1.25m was "the single largest amount" spent on the path by a local council.
A spokeswoman said: "More than 30 landslips and cliff collapses were recorded between November and February in mid and east Cornwall, particularly on the south coast between Caerhays and Rame Head."
Cornwall's Liberal Democrat-Independent coalition unitary authority added it was spending so much because the path was a "key attraction enjoyed by residents and visitors alike, and contributes around £177m per year to the Cornish economy".
It added that other council services would not suffer because its cabinet had also agreed funds towards "the cost of repairing roads and structural assets damaged in the floods".
Other councils have also contributed to coast path repairs:
Devon County Council: spent £105,000, but it added it did not include repairing "major areas" of path in Kingswear and Beer which would cost an additional £250,000
Plymouth City Council: spent about £100,000 on repairs after a landslip at Jennycliff
Dorset County Council: spent £8,000 to repair path at Burton Bradstock, paid for by a grant from the Rural Development Programme for England
Another section at the site was also repaired by the National Trust which had cost £9,235 and was paid for by Natural England.
Dorset Council said it had also asked Natural England to contribute £26,000 to repair the path at Portland (West Cliff) and between Kimmeridge and Chapman's Pool.
Future funding concerns
Natural England said it was "committed to supporting" the path and was working closely with other partners to assess requests for additional money.
"Each one is considered on a case-by-case basis, but financial support from Natural England will be subject to the availability of funds," a spokesperson added.
The South West Coast Path Association said research it commissioned estimated the direct spend attributable to visitors to the coast path in 2011 was more than £380m.
Steve Church, from the association, said it had also raised about £500,000, with the majority to be spent on improving the path, with new signs, gates and restoring paths.
He said: "A minority will be spent on repairing landfalls and cliff falls, because money from councils and central government has been available.
"However, if it happens again there might be no guarantee of any money for repairs," he added.