Enter Shikari raffle helps Liverpool hospital fundraising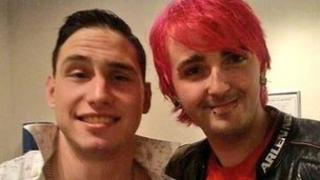 A mechanic's fundraising for a Merseyside hospital has "spiralled" after his favourite band started a raffle in support of his cause.
St Albans' Enter Shikari have offered fans a chance to win rare memorabilia in aid of Scott Stringer's efforts.
The 25-year-old has been raising money for the Royal Liverpool University Hospital in tribute to his best friend.
The band said his appeal, which will also see him climb a volcano in Indonesia, was "worth supporting".
Mr Stringer began fundraising after the death of Naomi Daly from pneumonia at the hospital on New Year's Eve last year.
Ms Daly had been treated for leukaemia and lymphoma and had started her own fundraising to help refurbish and improve the ward she stayed on.
The mechanic from Bootle took up Ms Daly's cause after her death as it was "a cause very close to her heart and now close to mine".
His efforts have already seen him raise more than £3,000 and will see him climb to the summit of the 12,000ft (3,600m) high Mount Semeru in Indonesia on Tuesday.
'Starstruck'
He said he had contacted the Hertfordshire band after they offered a prize on Facebook and "things spiralled from there".
"They put something up saying they were giving something away - I commented on it and said if I won, I'm going to raffle it off."
He was contacted by the band's manager, who is from Liverpool, and the pair met up at a show to discuss how the band could help.
As a result, the band decided to raffle off a prize of signed CDs and merchandise, rare test pressings of vinyl releases and a pair of tickets with a "meet and greet" for any of their headline shows.
Mr Stringer said he was "on top of the world" and was "starstruck every time I check Facebook and they mention me or the raffle".
The raffle runs until 27 August and the money raised will all go to the hospital's charitable fund, R Charity.
Clinical director of haematology Cathy Marsden said the money raised would "make a real difference to patients at the unit".
She added that the hospital was "very fortunate that people in our community are so generous and kind to support us in this way".