Devon teenagers in hospital 'after taking legal highs'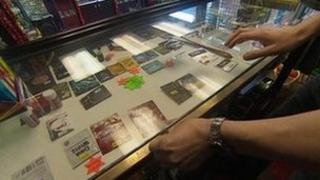 Three teenagers were taken to hospital after taking so-called legal highs, Devon and Cornwall's police commissioner has said.
Tony Hogg said the incidents - involving two people in Exeter and one in Torquay - occurred over the weekend.
The force said two men were taken to hospital in Exeter after taking El Blanco, while a man in Torquay was admitted after taking Bubble Bud.
Their condition is not known, although one man is still in hospital.
Mr Hogg said he was to bring legal highs "to the top of the [force] agenda".
He added he wanted politicians and councils to also highlight the issue.
Mr Hogg said the three were taken to hospital "just days" after he had confronted staff at a shop in north Devon which sold such substances.
He added: "I will be speaking with Chief Constable Shaun Sawyer to ensure we do everything we can to educate our communities so they understand that just because the substance appears to be legal, it does not mean it is safe.
"Parents also need to understand the serious health risks involved if their children use legal highs.
"They cannot know what effect these chemicals will have when taken because, in most cases, they have never been used in drugs for human consumption."
In June, a United Nations report said governments everywhere were struggling to cope with an increase in the number of the new drugs.