RNLI launches drowning awareness campaign in Sussex, Kent and Hampshire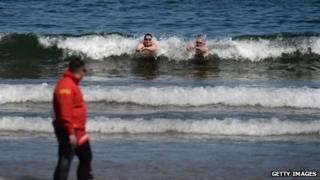 A new drowning awareness campaign is being trialled in Sussex, Kent and Hampshire throughout August.
The RNLI Respect the Water campaign urges visitors to the UK's coastline to be aware of the dangers of the sea.
The lifeboat charity said the campaign was specifically targeting men aged between 25 and 65, who make up 80% of fatalities.
Six times more men than women drown around the coast every year, a spokesman for the organisation said.
Ross Macleod, RNLI coastal safety manager, said: "We're trying to engage with that audience and give them some facts and figures around drowning.
"Not many people know that a rip current can actually travel at around four-and-a-half to five miles an hour - that's the same as an Olympic swimmer.
"Even the biggest and toughest of men are not going to be able to swim against that."
After the trial, the campaign is expected to be rolled out across the country.