Worthing Birdman: Northumberland adventurer claims 'record leap'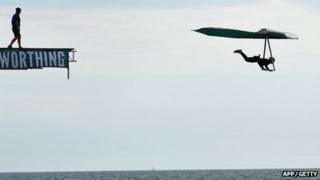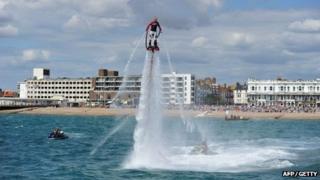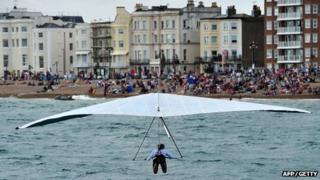 An adventurer has claimed to have made a record-breaking leap into the English Channel.
Ron Freeman, 57, flew 106m (347ft) at the Worthing Birdman in West Sussex.
But he could not claim the £10,000 prize for the furthest flight over 100m (330ft) because strong winds caused his hang glider to go on a sideways route, thus rendering his attempt invalid.
"It was the most perfect flight I've ever done," said Mr Freeman, from Newbiggin-by-the-Sea in Northumberland.
In 2009, Steve Elkins flew 99.86m (327.6 ft) at the competition.
Mr Freeman's forward distance off Worthing Pier was just 63m (206ft), meaning he missed out on the cash prize, but he was delighted to set what he claimed was a new total distance record on Saturday.
"I got it spot on. I was determined to do the 100 metres. It's never been done before," he said.
He claimed to not mind "one bit" about missing out on the five-figure sum.
"The jackpot distance is straight out from the pier but I decided not to go for that because the wind was too strong," he said.
"I've smashed my best distance by quite a bit. I wanted to prove to myself that I can do 100 metres and it's finally happened."
The Birdman event was created in 1971 in Selsey, near Chichester, and the event was moved to Bognor Regis in 1978.
The competition was moved to Worthing for two years in 2008 amid fears over the stability of Bognor pier.
But when the event returned to Bognor in 2010, the Worthing version remained.
The two day-event finished on Sunday evening.