Temporary bridge created over Cheshire's River Weaver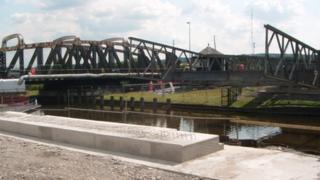 A temporary bridge is being put in place over a Cheshire river so vehicles can cross while the 90-year-old original bridge is restored.
The Sutton Swing Bridge over the River Weaver in Frodsham, originally built for horse and cart, will see a £4.5m restoration from September.
Cars will be able to use the temporary bridge while work is carried out over the next year.
The temporary structure is 36m (118ft) long and weighs 150 tonnes.
The restoration of the Sutton Swing Bridge will involve the full replacement of the bridge deck to maintain the bridge's current carrying capacity of 40 tonnes.
Project manager Clive Mitchell said installing the temporary bridge is crucial as without it traffic would face long diversions.