Cambridgeshire digger driver sentenced over Nottinghamshire man's death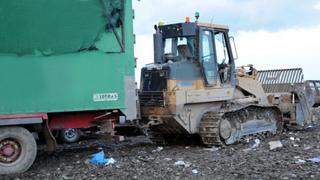 The driver of a digger who backed his vehicle into a lorry, crushing and killing its driver, has been given a suspended jail sentence.
Mark Nyland, 34, from Sutton-in-Ashfield, Nottinghamshire, suffered multiple injuries at Milton landfill site, Cambridgeshire, in January 2012.
Kenneth Miller, of Tower View, Linton, Cambridgeshire, admitted a breach of the 1974 Health and Safety at Work Act.
He was sentenced to six months in jail, suspended for two years.
Mr Nyland, who worked for a Leicestershire haulage company, had been emptying and cleaning the back of his lorry in a "safe area" when the accident happened, a Health and Safety Executive (HSE) spokeswoman said.
'Entirely preventable'
Miller, who was levelling ruts in the ground nearby, reversed his vehicle at an angle, crushing Mr Nyland against the lorry.
Mr Nyland died at the scene, on 5 January last year.
The HSE said it took the "rather unusual decision" to prosecute Miller, rather than the company he worked for, because "it was clear that [he] had totally failed to take the care that was necessary when operating a large vehicle on a busy waste site".
HSE inspector Roxanne Barker said: "Reversing vehicles have been the cause of many fatalities in workplaces over the years, and the risks are well known.
"Obviously, companies have a duty to assess risks and implement safety precautions for their sites, but, equally, employees have a duty to take reasonable care for the safety of others, particularly when they are operating dangerous machinery."
She added: "This was an entirely preventable tragedy that devastated Mr Nyland's partner, parents and family."
Miller was also ordered to pay £600 costs and was given a three-month home curfew.