History detectives unearth new insight into Flodden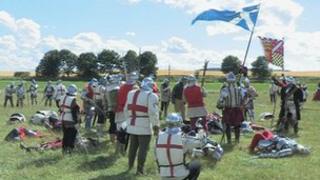 You wouldn't think that after 500 years there'd be anything new to say about the Battle of Flodden.
In recent times the conflict had largely been forgotten.
Even in Northumberland most people would not readily be able to tell you who won or what it was all about. Until now.
The significant anniversary has prompted some fascinating modern detective work and it's already thrown up a new understanding of the battle.
The rate of slaughter at Flodden was every bit as awful as the Somme in World War I.
Over the last 12 months I've been following communities from both sides of the border who've been working on dozens of projects to remember the battle and its terrible human cost.
Among them are archaeologists who've been digging at sites across north Northumberland including the supposed battlefield site next to Branxton village.
I've been a volunteer on those excavations and I have to tell you the land has been determined to keep any artefacts from 1513 hidden from us.
Although the number of finds has been disappointing, county archaeologist Chris Burgess is still upbeat and optimistic that future digs may yet come up trumps.
At Norham Castle where James IV first invaded England we had a bit more luck and uncovered evidence of lead workings.
Behind the legends
Northumberland Archives meanwhile recruited 40 volunteers to go back to source materials that have rarely seen the light of day down the centuries.
Historians often rely on accounts given by previous generations, but often without any idea where their predecessors got their facts from.
To try and cut through myth and legend, the volunteers spent six weeks learning how to read old English.
They then transcribed what amounts to the expenses claim sent to Henry VIII on behalf of the commanding officer, the Earl of Surrey.
The 500-year-old document held in the National Archives in London revealed just who was part of the English entourage, such as spearmen, archers, farmers, monks and what they got paid.
It also detailed what happened to King James IV's body.
He was taken to Windsor via Newcastle and York.
The bill for wrapping the body and welding it shut in a lead coffin came to £12 9s 10d.
By adding up all the accounts the transcribers have worked out how much the English campaign cost in today's money.
We'll reveal that total on Inside Out (North East & Cumbria) at 19:30 BST on Monday, 2 September, on BBC One.
Suffice it to say it proves this was not an insignificant battle in a remote corner of Northern England, but a defence of the realm at which no cost was spared.
Flodden was a moment in history that deserves wider recognition.
A whole host of events are planned in the run up to the 500th anniversary on September 9th.
You can see what's on at the Flodden 1513 website.