Injured military personnel join Fastnet Race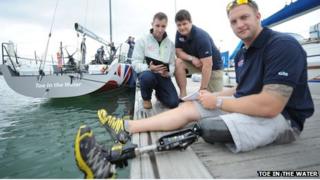 A group of injured military personnel are taking part in a "challenging and gruelling" yacht race.
The crew is among 300 boats competing in the Fastnet Race which started on the Isle of Wight on Sunday.
The sailors have blast injuries, gunshot wounds and some are single or double amputees.
Four able-bodied personnel are accompanying the injured servicemen on the 608 mile (1,126 km) long race.
All bar one of the participants currently serve in the armed forces and are based across the UK.
'Like a marathon'
Capt Pete Hayward from the Royal Welsh infantry regiment of the Army, who suffered injuries to his leg from a bomb in Afghanistan, said not finishing the event would be the "worst possible outcome".
He said: "A lot of time and effort has been spent and we've been looking forward to it.
"There's a lot of jobs on board we do which really improves our recovery, and it's a new and interesting way of getting out of the gym."
Able-boded crew member Lt Huw Reynolds, based at RNAS Culdrose in Cornwall, said 10 injured personnel, four core crew and a qualified doctor would be on board.
He said: "We're taking injured servicemen on the race as part of a rehabilitation project.
"We're focusing on what they can do rather than what they can't."
Lt Reynolds said the men had trained for the event and taken part in a series of offshore races.
He said: "It's a little bit more challenging than a daily race, it's a bit like a marathon.
"We're in it to win it," he added.
A spokeswoman from the race said injured service personnel had taken part previously and it was an "opportunity for them to do something on a level playing field".
She added: "It's a very challenging and gruelling, but exciting race."
Competing crews also include the first women only Army team to enter the race.
The crew of eight includes Capt Lorna Craik, 34, from Exeter, Maj Heidi Spencer, 38, from Barnstaple and Maj Sam Shepherd, 38, from Plymouth.
The skipper, Capt Lucie Allaway, said: "The challenges of the race are similar for all the teams, indeed sailing is one of the few sports where men and women can compete on a level playing field."
Yachts started at Cowes on the Isle of Wight on Sunday and then travel round Land's End, across the Celtic Sea and race around the Fastnet Rock off the south-west coast of Ireland.
The vessels then travel back to finish in Plymouth, with teams expected to arrive between Monday and Wednesday.
The team is using a Farr 52 race yacht, owned by the charity Toe in the Water, which uses competitive racing as a tool to inspire severely injured service personnel.
In 1979, 15 people died in the race when yachts were buffeted by treacherous conditions including strong winds and rough seas.