North East experts renew minimum alcohol price call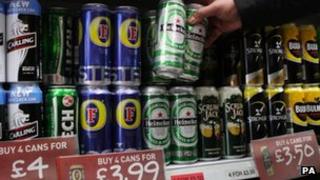 North East England has been "let down" by plans to introduce minimum alcohol pricing being shelved, experts said.
A group of 20, including gastroenterologists and physicians, has written an open letter.
They said they were "extremely disappointed" as it would have been a measure which "would have saved lives and reduced hospital admissions".
The Home Office said it had no concrete evidence the measure would have been effective.
The letter was signed by experts from Tyne and Wear, Northumberland, County Durham and Teesside.
They said: "In the North East we have the highest rate of alcohol-related hospital admissions, the highest rate of alcohol-specific hospital admissions for under-18s and the highest rate of under-18s in alcohol treatment.
"We are also treating more young people with alcohol-related liver disease than ever before, and this continues to rise at an alarming rate."
Earlier drinking
They said the number of hospital admissions for people under 30 with alcohol-related liver disease had increased by 400% in the region.
"This early onset is due to the fact that more people are drinking at much earlier ages and in much greater quantities, driven by price and availability," they said.
"Minimum unit price is needed, it's wanted and it works."
They said research by Sheffield University had shown a minimum price of 45p per unit had 50 times more impact than a ban on the sale of alcohol below the price of duty plus VAT, the government's chosen measure.
The Home Office announced in July that it would not adopt minimum unit pricing.
Crime Prevention Minister Jeremy Browne said: "That policy will remain under consideration, but it will not be proceeded with at this time.
"We do not yet have enough concrete evidence that its introduction would be effective in reducing harms associated with problem drinking - this is a crucial point -without penalising people who drink responsibly."