Rugby star James Haskell backs RNLI water safety drive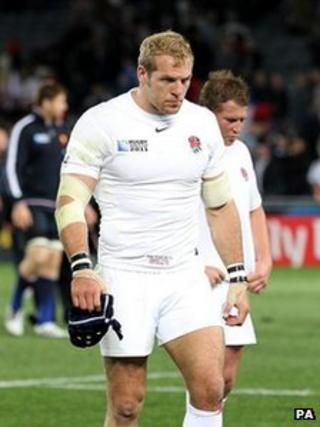 A water safety campaign has been launched by England rugby star James Haskell after a spate of drownings during the hot weather.
The RNLI Respect the Water campaign is being piloted in Kent, Sussex and Hampshire during August and could later be rolled out across the UK.
The lifeboat charity said the campaign had a focus on men aged from 25 to 65 because that group had the most deaths.
Haskell launched the campaign in Brighton on Friday.
He said: "As a rugby player, I train to be as strong as I can be. But I know from experience, that even I'm no match for the strength of the water."
The campaign was not to tell people not to go in the water, but to be safe there, he said.
He added: "The water is the opponent that never tires, so make sure you're never put to the test."
Rip tide risk
About 150 people die around the UK coast each year, but this year alone, more than 200 people have died with many incidents occurring in July's heatwave, the charity said.
It said six times more men drowned around the coast each year than women.
Key causes of coastal drownings were rip currents, cold water shock, slips, trip and falls, alcohol and fatigue, the RNLI said.
A rip current is a narrow current of water which runs perpendicular to the shoreline out to sea.
The charity said a rip could travel at almost the same speed as an Olympic swimmer.
RNLI coastal safety manager Ross Macleod said: "The British seaside is so popular, especially in the good weather we've been enjoying recently, but it's crucial to stay safe and remember key safety advice so you can enjoy it properly."