Vasile Bogdan jailed for London and Birmingham jewellery raids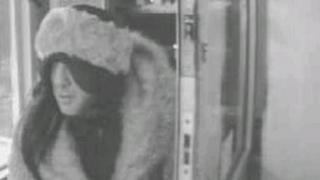 A man who dressed as a woman to trick jewellery stores into letting in robbers has been jailed for 10 years.
Vasile Bogdan, 35, originally from Romania, disguised himself as a female customer to gain entrance to the stores in east London and Birmingham.
He then acted as a lookout while the other members of the gang used sledgehammers to smash display cabinets, the Old Bailey heard.
Bogdan admitted one count of conspiracy to rob.
Gold jewellery worth more than £300,000 was seized in the raids, which took place between 1 October and 15 February.
'Absolutely terrified'
Judge Richard Marks said the robberies were carefully planned and involved a high degree of sophistication.
The shopkeepers and others inside the stores at the time must have been "absolutely terrified " by what they witnessed, he added.
The judge said Bogdan, of no fixed address, had come to the UK for the express purpose of involving himself in the robberies.
Bogdan had four previous convictions for theft in Romania between 1993 and 2001, the court heard.
Det Insp Ralf Kirchel said after the case that Bogdan was caught when a jewellery shop owner chased after him. He said officers were still looking for the other gang members.
He said: "This gang developed a method of operation that worked and they kept repeating it, stealing thousands and thousands of pounds of gold jewellery.
"They are clearly highly organised and put preparation and planning into each offence. We know that Bogdan came into the UK on 23 January, from Hungary.
"Our investigation is ongoing and does have links to other countries; we will do everything we can to track down the rest of this gang."