Bobby's Fund founder stole cancer donations to fund lifestyle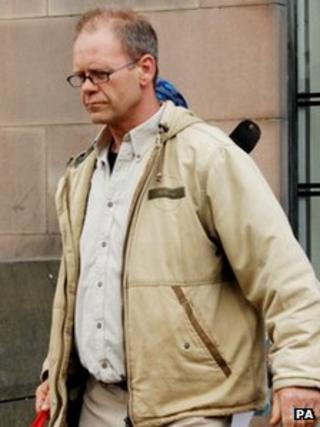 The money was meant to help children suffering with some of the rarest forms of cancer, including his own son.
But Kevin Wright was pocketing tens of thousands of pounds and placing it into his personal bank account to fund his own lifestyle.
Jurors at Nottingham Crown Court found him guilty of 10 counts of theft and two of fraud by false representation. He was cleared of one count of fraud by false representation.
In 2005, three-year-old Bobby was diagnosed with the aggressive form of cancer, neuroblastoma, and his seemingly caring father wanted to send him to the US for treatment.
Wright, 49, set up the charity, Bobby's Fund, to raise £200,000 for the trip and quickly found he had collected much more.
But in a blessing for the family, Bobby recovered with what was described to the court as "almost legendary" progress and the trip across the Atlantic was not needed.
Despite this, Wright continued to collect funds and received hundreds of thousands of pounds between 2005 and 2008.
'Bend over backwards'
The father, who lived in Exeter before moving to near Tamworth, claimed he was turning his attention to other children in need and said he could not "just sit on" the money raised.
Donations of £60,000 were made by charities Caudwell Children and Janet Nash to Bobby's Fund, but Wright said he was not aware of any stipulation that the money could only be used for Bobby's treatment at a specialist cancer centre in New York.
Wright told people he would "bend over backwards" to help other children and families with the same rare condition as his son.
He approached parents of sick children offering to help pay for their treatment in New York.
He set up fundraising operations for young children across the country including Alex Ward, who was diagnosed with a tumour on the brain, Callum Kaye, Jessica Magnus and Armani Mohammed.
But despite raising significant funds none of the children ever underwent treatment in the US.
During Wright's trial, Callum's mother, Anna Kaye, wept as she said she was never made aware £700,000 had been raised for her son.
Callum's Appeal was set up by Wright in 2007, but a year later, after finding out treatment in America was not appropriate for Callum, Mrs Kaye told Wright she no longer felt comfortable fundraising for him.
Wright told her they should "keep going until the end of the year", later adding he needed to transfer money between Bobby's Fund and Callum's Appeal for tax purposes.
'Keep quiet'
It was also alleged in court that Wright told the parents of Alex, who died from a brain tumour, to keep quiet about the death so that the fundraising appeal in his name could continue.
Alex's father, Michael White, said Wright had told him there was "still mileage in the fund to help others".
During Alex's treatment Mr White said he and his wife began to lose faith in their doctors due to Wright's influence.
And in 2007, when doctors told them they wanted to try a new type of chemotherapy on Alex, the Whites turned it down after Wright told them it would not help him.
Alex died in hospital in January 2008, just weeks after the Appeal4Alex fund was set up.
Worldwide 'research'
Wright said he used a "fanatical" approach to try to find treatments for others, looking at holistic and alternative therapies.
He carried out research which took him all over the world, to America, Mexico, Denmark, Germany, Portugal, Spain and China.
But despite what sounded like admirable intentions, he was pocketing tens of thousands of pounds for his own "interests, investments and personal lifestyle".
Donations continued to pour into Bobby's Fund and Bobby's Cancer Fighting Fund until 2009 - two years after the Wright family decided not to have Bobby treated in the US.
Wright purchased The Toad In The Hole restaurant in Exeter, claiming it was part of the fundraising.
'Spend how liked'
Wright said he wanted to use the restaurant to educate parents about natural foods and launch a recipe book detailing meals they had made for Bobby and the family during his recovery.
But when asked why any promotional material did not mention cancer, he said: "Who would want to go and eat in a cancer-themed restaurant?"
The opening of the restaurant was delayed and it eventually folded.
Following his arrest, Wright told police he believed he was allowed to spend donations as he liked.
He was subsequently charged with 20 offences, but prosecutors later dropped seven of the charges.
Now, the man who set out to be known as a fundraiser for children afflicted with a rare condition is facing a lengthy sentence in jail.