Badgers tracked by cameras in Defra project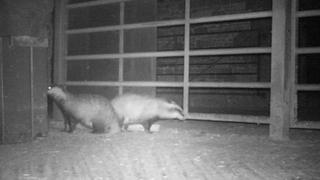 Work to install cameras to monitor badger behaviour has been completed on 65 farms in the west of England.
It is the second phase of a project run by the Animal Health and Veterinary Laboratories Agency (AHVLA).
The aim of the month-long project is to see if badgers eat food left for other animals and what their habits are.
A badger cull is due to take place later this year in parts of Somerset and Gloucestershire to try to stop the spread of bovine TB among cattle.
The pilot cull will run over a six-week period any time between now and the autumn. More than 5,000 badgers could be killed.
The CCTV project is not linked to the cull.
'Distance to setts'
Animal welfare and wildlife campaigners oppose the cull, during which trained marksmen will shoot badgers when the animals venture out of their setts at night to find food.
A total of 65 farms in Somerset, Gloucestershire, Wiltshire, Devon, Shropshire, South Gloucestershire, and Worcestershire are taking part in the monitoring scheme.
Jo Judge, wildlife ecologist at the AHVLA, said: "They're motion-sensor cameras so any time anything walks in front of them, it will take a picture.
"We have set it up so that it has the date and time on it when the photo is taken."
During the first phase of the project last year, in Gloucestershire, it was found some farms were more prone to badger visits.
It is hoped this second phase will help to establish the reasons why.
"We're looking at things like distance to the closest sett, how many cattle are kept on the farm, what sort of feed they store on the farm and also things like size of the buildings and the elevation," added Dr Judge.
'No bio-security'
Badgers can spread bovine TB to cattle.
It is hoped by working out ways to keep badgers away this could help bring the rate of infection down among cattle.
Gloucestershire cattle farmer John Mastrangelo is having the cameras installed on his farm.
He said: "How do I secure a field? How do I secure a building? It's not possible.
"If I secure a building, that animal could be outside, if it is the problem, spreading [bovine TB] on the ground.
"There is no such thing as bio-security."