Rania Alayed: Police search A19 near Thirsk for body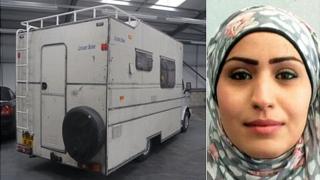 The body of a missing Manchester mother-of-three who is believed to have been murdered may be lying near the A19 in North Yorkshire, police have said.
Rania Alayed, 25, from Cheetham Hill has not been seen since early June. Her husband and brother-in-law have been charged with her murder.
Greater Manchester Police has been searching near a 15-mile (24km) stretch of the road near Thirsk for her body.
Officers are also investigating a white campervan seen on the road on 8 June.
The force has sent letters to the keepers of 350 vehicles which were travelling on the A19 or A168 between the junctions with the A172 and A1 on that day.
The letter asks people to contact police if they have information about the van, which the force believe was parked in a lay-by on the northbound carriageway between 03:00 and 05:00 BST.
Det Ch Insp Peter Marsh said the force also wanted to hear from "anyone walking in the area or working who may have seen some suspicious activity or come across any unusual areas of ground, such as a disturbance or cut vegetation".
"We have reason to believe that Rania's body could be located near to this stretch of road and this is where we have been concentrating our searches," he said.
Ms Alayed, originally from Norton on Teesside, was reported missing from home on 2 July.
Police believe she was last seen on 7 June at about 19:30 on Rodney Street, near Arthur Millwood Court, Salford.