Elouise Keeling asthma death: Ambulance delay probe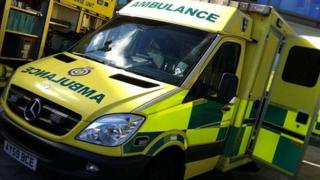 An inquiry has begun into why an ambulance was delayed after being called as a teenage girl suffered a fatal asthma attack in Cambridgeshire.
Elouise Keeling, 14, died after collapsing with breathing problems during an air cadets' sports day at RAF Brampton near Huntingdon, on 25 June.
An ambulance was called at 19:44 BST but did not arrive until 20:03 BST.
The East of England Ambulance Service said it was investigating its response, which should have been eight minutes.
Instead, despite the case being classed as high priority, it took 19 minutes for paramedics to arrive.
'Full investigation'
A spokesman for the East of England Ambulance Service Trust said it was aware of the complaint but said it was a "complex" matter.
The trust would not comment on whether the ambulance went to an incorrect address.
A service spokesman said: "We were called on 25 June to reports of an unconscious 14-year-old who had suffered an asthma attack at RAF Brampton.
"A rapid response vehicle, a land ambulance and an air ambulance attended but sadly the girl was pronounced deceased at the scene.
"The incident is currently undergoing a full internal investigation.
"The patient's family are aware of this and are being kept fully informed throughout the process."
The BBC understands the investigation is focused on why the ambulance was delayed and whether the delay contributed to her death.