Royal train maintenance supplier sought after Railcare collapses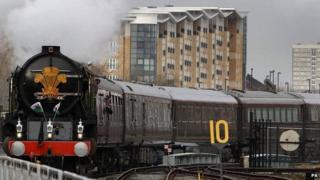 A new supplier is being sought to oversee the Royal train after the company that maintained it went bust, it has emerged.
Over 150 job losses were announced at rail refurbishment firm Railcare after it called in administrators last week.
Network Rail said it was seeking a new company to maintain the train, but insisted its future was "not under threat" and it would "continue to run".
Buckingham Palace declined to comment on the news.
Speculation about the train began after the Rail Maritime and Transport Union's general secretary Bob Crow told the Press Association that the train's future was being "thrown into the mix" following the collapse of the firm.
Railcare was thrown into jeopardy after a planned takeover by a German company collapsed.
The firm operates at sites in Springburn, Glasgow and Wolverton in Buckinghamshire.
An Network Rail spokesman said: "Network Rail is responsible for looking after the Royal train when not in use and currently uses Railcare to perform these duties for us.
"As a result of Railcare's news, Network Rail is looking for another supplier to take over these duties. The Royal train is not under threat and will continue to run, when needed."
The train, which is used by The Queen, The Duke of Edinburgh and The Prince of Wales on longer journeys around the UK, has been based at Wolverton, near Milton Keynes, for almost 100 years.