Weybourne body: New inquest into Michael Sutherland's 1989 death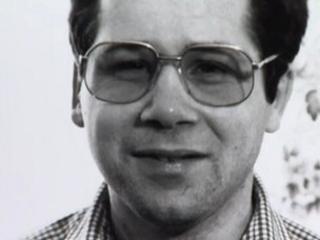 A new inquest is to be held into the death of a man found in the sea off Norfolk 24 years ago, who was finally identified with DNA tests last year.
Michael Sutherland, 34, was found by fishermen at Weybourne in 1989 and buried in an unmarked grave in 1990.
However, his body was exhumed in 2012 and DNA analysis matched the family of missing Mr Sutherland, of Lincolnshire.
Norfolk Coroner William Armstrong applied to the High Court to hold a new inquest and this has been granted.
In a High Court ruling, Mr Justice Dingemans and Judge Peter Thornton QC, the Chief Coroner, agreed it was "necessary and desirable in the interests of justice that another inquest should be held".
They added that the coroner would be "able to consider new evidence of identity and, if appropriate, revisit the original verdict".
In November last year, a memorial service was held at All Saints Church, Weybourne, for the Sutherland family.
They said they were relieved to finally be able to pay their respects to a brother and uncle who went missing from Cleethorpes in September 1989.
He was found in Weybourne the following month, but a six-month inquiry by police failed to work out who he was.
Mr Armstrong said the then Norwich Coroner James Hipwell held an inquest in April 1990 into the death of an "unknown person".
"The identity of the person remained unascertained and the then coroner recorded an open verdict," he said.