Labour win in Thetford West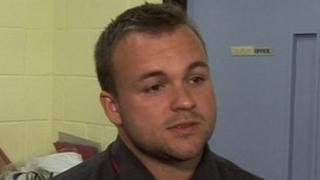 Labour's win in the Thetford West by-election will not make any difference to the running of Norfolk County Council but it contains some interesting pointers to the state of the parties in our region.
The seat, which the UK Independence Party took in May with a majority of one after four recounts, was won this time by Labour with a majority of 171. And with a higher turnout of almost 25%, there's no usual by-election excuses about lower than normal voter participation.
Labour's candidate David Jermy has lived in Thetford all his life and is well known there. He's already a town and district councillor and he worked hard to win his seat.
"We've really explained to people the difference between Labour and UKIP," said Mr Jermy. "I think the message that Labour is on their side and cares about the issues they care about resonated with UKIP supporters and I'm delighted that so many people who voted UKIP last time have come back to Labour. It's very encouraging"
He was supported by the party regional office, which sent in staff and resources to make sure he won and the fact that the Liberal Democrats didn't field a candidate will also have helped.
UKIP's John Newton believed that he had been out-gunned by Labour.
"They probably had more resources and they're a bigger organisation, that must have played a part," he said.
Migrant workers
He also claimed that one of the reasons for his defeat was that Labour had mobilised the EU migrant vote against UKIP; comments which will embarrass the party that's always keen to claim it embraces migrant workers who are in the UK to work legitimately.
But UKIP will also take heart from the fact that more people in Thetford voted for them in a low key council by-election in August than did so in May, when the party and its leader Nigel Farage were constantly in the media spotlight.
The Conservatives have never won in Thetford but their vote fell again - by almost as much as UKIP's went up. Could this be a sign that in places where the Tories can't win voters see UKIP as a viable alternative?
Norfolk County Council will still be led by a minority administration made up of a rainbow alliance of Labour, UKIP, the Liberal Democrats and the Greens. But Labour is now the largest party in this alliance, boosting the chances that Labour leader, George Nobbs, will stay on as council leader.
UKIP's success in May spooked Labour and the Tories, who both lost seats to them in their traditional heartlands in the east.
This by-election shows that Labour can still win in these seats, providing it has the right candidate and puts in the effort. But it's still too soon to write off UKIP. Its increased vote in this by-election shows that the party can still command significant support.