Hertfordshire Police officer 'raped woman after arrest'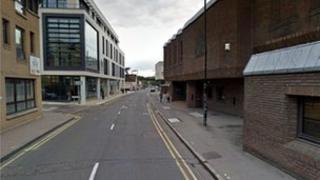 A police officer has denied raping a woman he had arrested the day before.
PC Adesoji Afolabi, 30, from Luton, arrested the 22-year-old woman on suspicion of criminal damage last July.
Chelmsford Crown Court heard Mr Afolabi and the woman exchanged text messages before he went to her father's Harlow home and raped her.
The jury heard Mr Afolabi had been diagnosed with Asperger's syndrome and was told by his superiors to practise building a "rapport with people".
The court was told the woman was released without charge following her arrest.
She was driven to her father's home in Essex by Mr Afolabi and a colleague in the Hertfordshire force.
'Being too friendly'
The court heard Mr Afolabi visited the woman the next day in Harlow and, after a meal, raped her.
But Mr Afolabi told the jury he would "never force" himself on anybody.
Asked about the victim's claims Mr Afolabi had "chatted" the woman up, clinical psychologist Dr Janine Robinson told the jury he would "struggle to realise when he was overstepping the mark".
"When he thinks he is building rapport," she said, "he is being too friendly, or overstepping the mark. He is being misunderstood."
She said Mr Afolabi was drawn to people on the margins of society and had, on a number of occasions, found himself acting out of kindness without thinking through what the consequences might be for himself.
The trial continues.