Robert Halfon MP admits wrong Affinity Water figures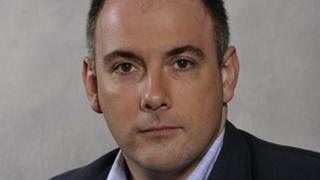 An MP has admitted wrongly criticising a water firm for increasing its bills and senior pay when they had fallen.
Robert Halfon, Conservative MP for Harlow, conducted research stating water bills and directors' pay at five firms had risen since 2008.
Affinity Water said Mr Halfon's figure of a 97% rise in its senior pay over four years was wrong - and that its remuneration figures had fallen.
It added bills had also fallen in real terms, denying claims of a 16% rise.
Mr Halfon said he admitted the figures were incorrect, but stands by the rest of his research.
In "Watergate - The Great Eastern Region Water Con", the MP analysed the results of Affinity Water, Anglian Water, Cambridge Water, Essex and Suffolk Water and Thames Water in the past five years.
'Hold down costs'
The firms serve properties in Norfolk, Suffolk, Essex, Cambridgeshire, Northamptonshire, Bedfordshire, Buckinghamshire and Hertfordshire.
An Affinity Water spokesman said Mr Halfon had used figures in his research from Veolia, which used to own the company, and said the error was "an understandable mistake".
A statement from the company said: "Between 2007 and 2012, average household bills have reduced in real terms below the rate of inflation.
"The directors' remuneration figure of £2,829,000 for 2011/12 referred to in the report is inaccurate.
"Our published audited accounts show total Directors' remuneration for 2011/12 was £530,000 and for 2012/13 was £442,000.
"We appreciate that household budgets are under pressure and we are managing our business to hold down costs."