Sniffer dog Coco sniffs out illegal drugs in hospitals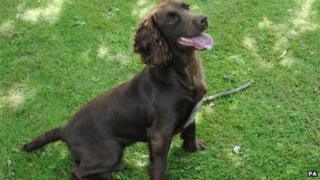 A police-trained dog is helping sniff out illegal drugs in hospital wards in the north east of England.
Coco and her ex-police dog handler make the rounds preventing patients, visitors and even staff misusing drugs.
Northumberland, Tyne and Wear NHS Foundation Trust said that if drugs use was suspected it could take up to two weeks to arrange a search.
Using Coco meant tackling the issue immediately, it said. It is thought to be the second such scheme in England.
Gary O'Hare, director of nursing and operations at the trust which covers seven hospitals, said Coco and her handler John McCarroll had been "an excellent addition to our staff teams".
"They will ensure we can continue to offer a safe and supportive environment for those receiving treatment, whilst giving people the confidence to report anything they find suspicious, either in our buildings or anywhere in our grounds."
The Northumbria Police's dog training unit said the cocker spaniel carried out searches to an excellent standard during initial training.
Coco also acts as a "pets as therapy" dog for elderly and very young patients.