Gedling MP Vernon Coaker faces challenges in 'new' Belfast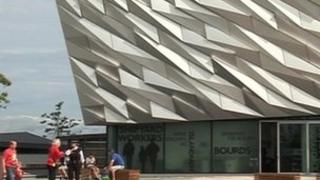 If you want a flavour of the new Belfast, the hot ticket these days is for the city's new Titantic attraction.
One year since its opening, the centre's just notched up its millionth visitor.
The original Titantic was built in the city's docks and the museum celebrates Belfast's celebrated industrial heritage.
But this city has another heritage that can give it a very different reputation.
The annual 12 July parades this year sparked disturbances that surprised many in the rest of the UK, who thought the old conflicts were being resolved.
Peace process
That's also a concern of the Shadow Northern Ireland Secretary of State, Vernon Coaker.
I had the opportunity to accompany the Gedling MP on a two-day visit to Belfast to find out if the peace process is really secure.
It was a busy schedule, with meetings with the Orange Order of the Shankill Road, Sinn Fein in North Belfast, the police and the Law Society of Northern Ireland.
As a newcomer, I found Belfast is a very smart and modern-looking city. But the surprise for me was twofold: the high, steel walls that still divide many loyalist and nationalist communities and the blizzard of opposing flags that mark out each territory.
'Murder triangle'
The first meeting was with members of the Ulster Defence Association (UDA). Yes, there had been progress.
A gate that once blocked access by loyalists into the Catholic New Lodge estate, and likewise for Catholics into the neighbouring Protestant area, is now open. But only during the day.
"Up until a few years ago, we wouldn't have come through here," Jackie McDonald, the UDA leader, told me.
"There were more deaths along here than in any other area of Belfast. It was known as the murder triangle," he added
'This can't go on'
The old suspicions remain and restrictions on some of the Orange Order's marching routes through Belfast caused resentment on all sides.
"You have to understand the anger," added Mr McDonald.
"Because it seems to many of us, especially some of the younger ones, that Sinn Fein is getting it all their own way."
After a short drive across the city, Vernon Coaker was shown the route of a contentious loyalist march through a Catholic area.
He was met by Sinn Fein's Gerry Kelly, a convicted IRA bomber, an elected politician on the Northern Ireland Assembly and now a government minister.
He took us to the location of a stand-off between the police and the loyalist marchers last month.
"They were heading to a Catholic enclave and their behaviour was deliberately insulting," he said.
"When the parades are over, we need to sit down and talk. This can't go on. We don't want to be in the same position next year."
'Great support'
I asked Vernon Coaker if he had any qualms about dealing with those nationalist and loyalist leaders with past convictions for political violence.
"These people are now elected and representing their communities. It's about finding a way forward and overcoming the continuing difficulties.
"As a UK politician, as Shadow Secretary of State, it's important that people here know that we care about what is happening and understand what's happening and are helping to resolve those issues."
Those difficulties can be particular challenging for Matt Baggott.
The former chief constable of Leicestershire now runs the Police Service for Northern Ireland, and last month he needed to call in a few favours.
"We has great support from the East Midlands," he told me
"My old colleagues from Leicestershire came over to back us up for the G8 summit and the Twelfth of July parades.
"It's not something we would want to do all the time, but there was an exceptional demand on the Twelfth of July.
"They were incredibly professional, great valued and did a great job."
To prevent further conflict in the years ahead, Vernon Coaker says the answer is further dialogue between the communities.
"That doesn't make for exciting headlines but the alternative is a slide back to past troubles, " he added.
"It's a huge learning curve and you have to know your history."
For this former Nottinghamshire teacher, it's a history lesson he is anxious none of us forget.