East Midlands Airport passenger numbers fall but revenue rises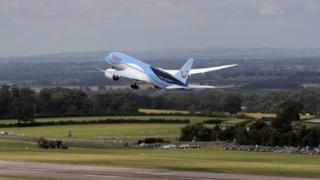 Revenue at East Midlands Airport has increased despite passenger numbers decreasing, its annual report shows.
Passenger numbers decreased 6.6% - from 4.3 million for the 2011-12 financial year to 4 million for 2012-13.
The airport's revenue for the most recent financial year was £50.8m, compared to £50.2m the year before.
Operator Manchester Airports Group (MAG) said the passenger decrease was largely due to budget airline Bmibaby ending its services there last summer.
But it said that other airlines have since increased flights to and from the airport, which would "more than offset" the impact by this summer.
New flights include the Thomson 787 Dreamliner, which left East Midlands Airport for Florida for the first time on Tuesday, with 291 passengers.
Andy Cliffe, managing director of East Midlands Airport, said they were pleased to have "put back the growth now with those new carriers", and that they had "exercised good cost control".
The annual report, which is for the airport group as a whole, said East Midlands Airport's revenue from cargo increased to £9.2m, from £9m the year before.
The airport also said it had saved money by bringing its security operation in-house. This was previously outsourced.