Anglo-Saxon gravestone auctioned in Dorchester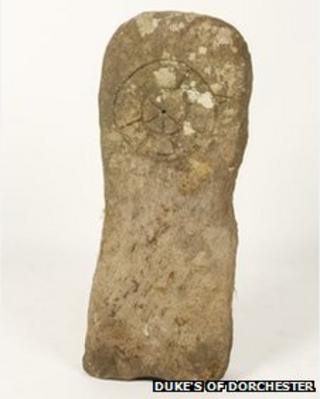 An Anglo Saxon gravestone dating from the time of Alfred the Great has been sold at auction in Dorset for £4,300.
The 9th Century artefact was discovered under some cardboard in the garage of a house in Guildford, Surrey.
Engraved with a Celtic cross, the 81cm-high (32in) stone was sold to a private company in London.
A spokesperson for Duke's Auctioneers, of Dorchester, said: "putting a price on it was difficult as it is extremely unusual".
'Danelaw country'
The stone was originally found during road construction in the early 20th Century at Little Eaton, Derbyshire.
It appeared at auction, where it was bought by the present owner who had "almost forgotten about it", according to Duke's.
Experts from Buxton Museum, in Derbyshire, have confirmed the grave marker dates from the 9th Century.
The spokesperson at the saleroom said: "This grave marker actually comes from an area of the country known as the Danelaw because it was under the influence of the Danes, and their laws held sway.
"The area [which covered northern and eastern England] was defined in a treaty following the defeat of the Danish warlord, Guthrum, in a battle with King Alfred at Edington in AD878."
Alfred, who died in 899, was King of Wessex but was referred to as King of the English towards the end of his reign, after he united areas of the country and defeated the Danes in several battles.