Olympic rower James Cracknell to stand in European elections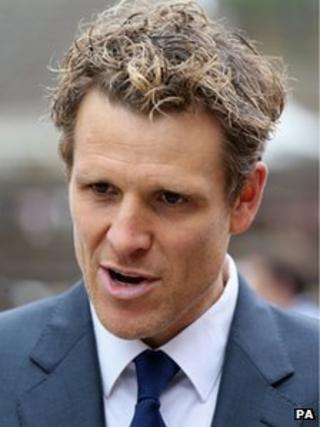 Double Olympic gold medallist James Cracknell has been selected to stand for the Conservatives in next May's European elections for the South West.
The rower is the party's third choice candidate behind current MEPs Ashley Fox and Julie Girling.
Also selected for the next election were Georgina Butler, Sophie Swire and Melissa Maynard.
The Tories' previous third choice candidate Giles Chichester has announced he is standing down.
Mr Fox, who came first in the selection process, said he wanted to renegotiate the country's relationship with the EU.
"If we can repatriate significant powers back from Brussels to Westminster we will be content to remain in the EU," he said.
"If we can't, then we shouldn't be afraid to leave."
Of Cracknell, he said: "It's good that people come to politics with a hinterland of having done something other than politics. I think he will be very valuable."
Ms Girling said: "He has a lot to offer in terms of his sportsmanship prowess.
"That's all about teamwork and performance and getting the most out of yourself and others. I'm sure that translates to politics."
Cracknell has taken on numerous challenges since retiring from his rowing career, including an Atlantic rowing race with Ben Fogle,
He suffered a skull fracture in a bike accident in the US in 2010 while filming for a television series.
UKIP have two seats in the South West and Gibraltar. The Liberal Democrats have one.