M25 extra lane 'puts drivers at risk' AA warns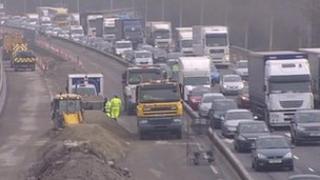 The AA has warned that replacing the hard shoulder of the M25 between Kent and Surrey with an extra lane could put drivers at risk.
The motoring organisation said drivers who broke down would block the lane and could be in danger if their lights fail at night.
Similar schemes are already in place on the M42 and M6 in the West Midlands.
The Highways Agency said in most breakdowns motorists were able to drive to emergency refuge areas.
Paul Watters from the AA said: "There will be emergency refuge areas every 2.5km (1.5 miles) on the M25, compared with every 800m (875 yards) on the M42 in the Midlands.
"We are worried that if you break down you will be in lane one and we'll have to have a full lane closure to deal with the problem.
"If it's dark and you've got no lights are you are at great risk if you're stuck in lane one."
'Performed well'
Signs on gantries above the M42 and M6 give information on whether the hard shoulder is to be used as an extra lane or not, depending on traffic flow.
The M25 scheme will make the hard shoulder permanently available to drivers as an extra lane and give additional capacity to the M25 between junctions five and seven.
Mr Watters said: "The M42 has preformed incredibly well but they can switch the hard shoulder on and off. You will not be able to do that with the Kent to Surrey scheme."
Signs will be in place to direct traffic into the second lane, when necessary.
Martin Potts from the Highways Agency said: "There will be emergency areas which drivers in difficulty can pull into, and these are placed at about 2km (1.2 miles) intervals.
"The RAC tell us that the vast majority of breakdowns don't break down there and then.
"A warning light might come on and you can drive to a point of safety."