Sita defends service over Tandridge waste service disruption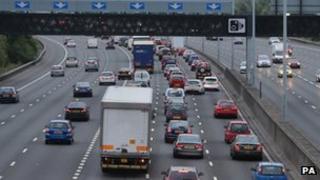 A waste management firm has defended its service after claims that delays at its plant in Kent had disrupted rubbish services in part of Surrey.
Last week, Tandridge District Council blamed the Dunbrik waste site in Sevenoaks, along with M25 roadworks, for difficulties with its collections.
Biffa, which collects the refuse and takes it to the plant run by Sita, said the issues were out of its control.
Sita said vehicles tipping loads at the same time could sometimes cause delays.
In a statement, regional manager Paul Stirling said the company prided itself on delivering "a high quality service" to all its customers at Dunbrik.
"We work hard to keep waiting times to a minimum and these generally occur when several vehicles turn up to tip their loads at the same time."
The Highways Agency said it regretted any inconvenience caused by motorway roadworks.