Natural England confirms two new coastal path routes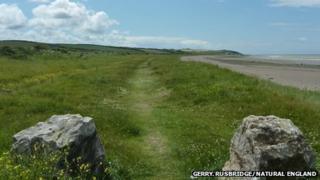 Two stretches of coastline have been newly designated as being part of the England Coast Path.
Natural England said funding for the two routes - between Hartlepool and Sunderland, and Allonby and Whitehaven in Cumbria - would offer improved access for visitors.
The national path is eventually expected to allow people to walk about 2,800 miles (4,500km) around the whole of the English coast.
Work is due to start in early 2014.
In the North East, improvements will be made to land between North Gare in Hartlepool and South Bents in Sunderland.
Niall Benson, from Durham Heritage Coast Partnership, said: "This new path will physically reconnect Grangetown and Ryhope to their coast, something that has been missing for a generation.
"We can't wait to get the work done and get people out there."
Councillor Keith Little, Cumbria County Council's cabinet member responsible for the countryside, said: "The planned £120,000 of access improvements to this stretch of the Cumbrian coast will be fully funded by government and bring real social and economic benefits to local communities in the area."
The approval of the two stretches follows two years of consultation between Natural England, councils and landowners.