East Midlands Trains rail action injunction rejected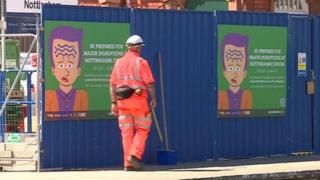 A move to block industrial action by the RMT union on East Midlands Trains has been rejected by the High Court.
The company had applied for the injunction after the union banned overtime earlier this month.
A work to rule began on 20 July, coinciding with major engineering works at Nottingham station.
The firm said it was disappointed by the decision and would consider its options, while the RMT called on bosses to resolve the dispute.
The union, which represents train managers and senior conductors, claimed there was a "culture of bullying, harassment and victimisation" in the company, leading to a breakdown in industrial relations.
EMT said the dispute had been "invented" by the union.
The action means staff will not work any overtime or rest days and will stick to contracted terms of employment.
The union claimed it had disrupted some services last weekend, but the company maintained cancellations on the East Midlands Parkway to Liverpool route were due to driver shortages.
'Dignity and respect'
RMT leader Bob Crow said: "It's a shame that East Midlands Trains have wasted time and money dragging RMT into court under the cloak of the anti-union laws.
"They should have been sitting round the table resolving this dispute which is all about treating RMT members on this franchise with dignity and respect in light of the planned engineering works around Nottingham."
An East Midlands Trains spokesman said: "Our passengers will be disappointed by today's decision at the High Court.
"Our priority in taking this serious step to commence legal action was to try to protect our customers from unnecessary disruption by the RMT and we continue to believe the union is encouraging its members to take unlawful strike action.
"We shall be considering our further options."
Work at Nottingham station is taking place until 25 August.
During this time East Midlands Parkway is the closest station to catch services to London and other destinations.
Network Rail, which is carrying out the work, said the changes would improve the speed of rail services.