Devon council sickness 'nearly twice private sector'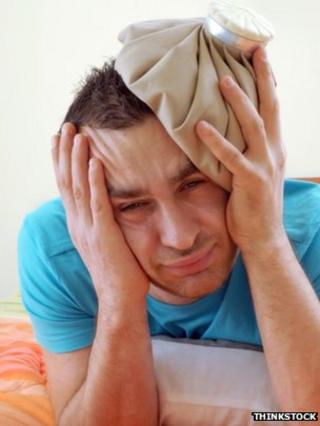 Workers at a Devon council on average took nearly twice the number of sick days as UK private sector workers, it has emerged.
South Hams District Council workers took an average 11.59 days sick leave in 2012-13, compared with about six days in private firms.
Some binmen and ambulance workers took an average of more than two weeks sick leave in that period.
Managers said they were trying to control sickness effectively.
Freedom of Information requests by the BBC asked organisations for their number of workers and the average number of sick days over the past four years, as well as what targets they had, if any, for 2013-14 on sick leave.
The figures do not include workers in schools such as teachers because many schools have opted out of local authority control.
Conservative-controlled South Hams council came top of the table, with staff taking an average of 11.59 days sick.
An authority spokesman blamed its figure on "a number of staff being on long-term sick leave due to debilitating, or serious, illness not related to their work".
He said: "We try to manage these cases effectively.
"People are encouraged to return to work as soon as possible, with support including referrals to occupational health and phased or adjusted duties or hours."
Liberal Democrat and Independent controlled North Devon Council (NDC) had the second highest sickness rate in the county, with an average of 10.2 sick days per employee.
The sickness rate among refuse workers at NDC was an average 16.54 days last year, down from 19.09 days in 2010-11.
Dean Davies, chair of the north Devon branch of Unison, which represents council workers such as binmen, said the union had been "working very hard" with the council to reduce sickness absences.
"Rates are falling considerably," he said.
"It shows how staff and employers can get together and combat these issues."
Last year, the sickness rate among staff at the South Western Ambulance Service NHS Foundation Trust was an average 16.3 days.
A spokesman said the service compared favourably with other ambulance trusts with one of the lowest sickness rates in the country.
"However, the trust acknowledges that the figure is higher than desired and therefore has an ambitious plan in place to try and reduce its sickness levels," he added.
Rates 'falling considerably'
The sickness rates in the public sector compare with an average 6.5 days a year in manufacturing and production and 6.6 days in private sector services such as finance and media, according to a 2012 survey by work analysts the Chartered Institute of Personnel and Development (CIPD).
The only public sector organisations in Devon and Cornwall with sickness figures below the private sector were Torridge District Council, with an average of 6.42 days in 2012-13, and Cornwall Fire and Rescue Service, with an average of 6.46 days.
NDC council leader Brian Greenslade said: "It's all too easy to jump to conclusions when comparing sickness absence levels at different organisations, as some of our staff have unfortunately had long-term sickness and, as a good employer, we have been supportive of them.
"However, since 2009, we have been working to address sickness absence."
'Traumatic events'
Jane Abraham, healthy workplace advisor at the University of Exeter Medical School, said: "Sickness absence is engaged more effectively in the private sector and tends not to be tackled so promptly in the public sector and managers are not as well trained to deal with it.
"The public sector is also very public facing and they are exposed to traumatic events.
"We are all human and we are affected by that."
Sue Wilkinson, development manager of the Federation of Small Businesses in Devon, said: "Small businesses are quite often family firms, so being part of a little team, the workers feel the impact more.
"Perhaps that is why the figures are less in the private sector."
The TaxPayers' Alliance, an organisation which campaigns against perceived government waste, said the local authorities should get their sickness rates down.
Political director Jonathan Isaby said: "There is no reason why the figures should be any different: those in both sectors face exactly the same problems and challenges.
"Councils across Devon need to get their sickness rates down because every working day lost costs taxpayers dear and impacts on the provision of council services."
A Local Government Association spokesman said: "There are fair and well established procedures for dealing with on-going absence and the number of days lost to sickness and stress is falling."