West Midlands Police creates 100 staff jobs amid cuts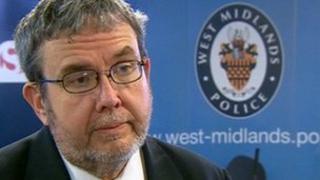 West Midlands Police is creating 100 staff posts to free up "beat" officers.
Police and Crime Commissioner Bob Jones said officers were moved off the streets in earlier cuts to handle public inquiries. The new recruits will replace some of these, allowing officers to return to front-line work.
The new positions are funded through restructuring and council tax police precept increases in the West Midlands.
The force plans to lose 2,700 staff, including 1,100 officers, by 2015.
The policing element of council tax bills has increased from £99.45 to £102.43 a year for a Band D property.
Mr Jones, who is in charge of implementing the force's £126m budget cut, said "the quickest and cheapest way to deploy officers out in the community" was to redeploy those who had experience doing the job.
Tax increase
He explained previous cuts had led to officers being moved to other roles within the force to avoid excessive redundancy pay-outs.
"Eighty-five percent of costs relate to staff and the biggest proportion of that relates to police officers," he added.
Some of the new posts will be offered to existing staff facing redundancy, but Mr Jones said "the majority" would be available to applicants outside the force.
The positions are part of the force's public inquiry restructuring, which includes two new non-emergency police hubs in central Birmingham and West Bromwich.
The deployment of front-line officers between the Birmingham and Coventry areas is yet to be decided, although Mr Jones said he would expect deployment to be "fair" and in response to the current "modest increase in crime" in the region.